SPIRITUAL LEADERSHIP At North Creek
Pastor - Mark Bolhofner
Dr. Mark Bolhofner has been a pastor in South Florida for 34 years and is the founding pastor of the North Creek Presbyterian Church (est. 1992). He and his wife Kathy are long-time South Florida residents, having both graduated from nearby Coconut Creek High School.
Mark went on to pursue his B.A. at the University of Tampa, an M.Div. from Reformed Theological Seminary, and received his Doctor of Ministry from Westminster Theological Seminary.
He and Kathy raised three children in South Florida and currently reside as 'empty-nesters' with their dog, Francie, in Coral Springs.
Pastor Mark & his wife Kathy warmly greet everyone each Sunday after each service at the main entrance. We hope you are one of those they get to say "hello" to, on your next visit with us at North Creek!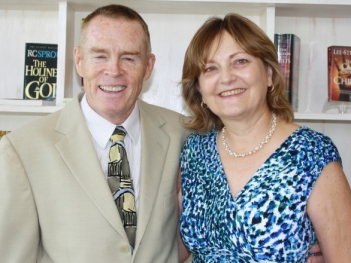 Walter Jominy has a Bachelors Degree in Business from Ohio State University and a Masters of Business Administration (MBA) from Nova Southeastern University. He is a Florida state certified teacher with over 20 years experience. Prior to working in academia he was President of a computer information provider that he sold to the Chicago Tribune.
Walter did an internship with Christian author Josh McDowell to further his studies in Christian Apologetics. He is currently head of the Bible Department at Westminster Academy and Adjunct Professor of Economics at Broward College and Palm Beach Atlantic University.
Married to Jenny for over 42 years, he has two children and five grandchildren. He has completed nine marathons and successfully competed & finished in his first Ironman competition in Chattanooga in the fall of 2015. Congrats Wally!
Having joined North Creek Presbyterian Church in 2008, Walter is a Ruling Elder, teaches Adult Sunday School and preaches when the pastor is out of town.
Prior to attending North Creek, Jose was a Deacon, then an Elder in the Calvary Associate Reformed Presbyterian (ARP) Church (formerly a Calvary Chapel church) in Northern Virginia for almost 12 years. As the pastor taught the Reformed faith and the congregation grew in the wisdom and knowledge of the Lord, the Lord impressed upon the elders the importance of being associated with a denomination and several years later, the Lord led them to unite with the Associate Reformed Presbyterian Church.
His family moved to South Florida (wife's position relocated) in Dec, 1998. As he and his wife, Anna, prayed and searched for a church prior to moving they found an ARP church located in Coconut Creek, listed in the ARP Directory. Jose called Pastor Mark and asked if he and his wife could come and speak with him, and they were invited to the Pastor's home! It was an answer to prayer because as Jose tells it, "We felt their genuine love and we believed we were of like minded faith; thus we found our church home and transferred our membership."
The Lord's timing is perfect and he undoubtedly believes the Lord led them here. Jose says, "My passion was always to serve the body of Christ and wanted to continue to serve wherever needed. I shortly became part of the Diaconate and then was asked to be part of the Eldership.
My family has truly been blessed beyond measure. Prov 5:3-6 states: "Trust in the Lord with all your heart and lean not on your own understanding; in all ways acknowledge Him, and He shall direct your path."
Ted has served as an Elder at North Creek Presbyterian Church since 2011, and is currently the Clerk of Session. Ted has attended North Creek since 1998, and is a past Chairman of the Diaconate, having served 3 years as a Deacon.
Ted spent 27 years with the DuPont Company in sales and marketing roles that provided products and services to the printing industry. Additionally, he led the consulting services efforts of a national printing trade organization. Ted has a B.S. degree in Industrial Engineering from Penn State University, and is a Vietnam veteran having served in the U.S. Marine Corps.
He and his wife Annie have 4 grown children, 3 living out-of-state, and one still within the sunshine state of Florida!