Ministry We Support Monthly
World Witness (ARP Foreign Missions)
World Witness is the foreign missions agency of the ARP Church. Since 1875, we have sent missionaries to Mexico and Pakistan. Our fields have broadened to now include Chile, Germany, Latin America, Lithuania, Persian Ministry, Scotland, Spain, Turkey, theological training worldwide (MT3) and Eastern Europe.
A primary focus is the Muslim world which includes a Christian hospital in Sahiwal, Pakistan, reaching 40,000 Muslims annually, and Christian schools in Pakistan, educating 500 students annually. In addition, an Iranian satellite TV ministry is planting dozens of house churches, and in Turkey, we are planting churches.
Outreach North America (ARP Home Missions)
Outreach North America provides the essential support you need to vitalize the church you're leading — or to plant the ministry your community needs. Our essential services help you transform your ministry through biblical strategies that look and think forward to the growth of the Gospel.
ONA is actively involved in North America evangelism, church planting, church vitality, along with resources and news to help serve our ARP community.
O. Palmer Robertson and The Schimke Family (African Bible University, Uganda)
Now is God's appointed hour of opportunity for Africa. Evangelical Christians throughout this continent must ground themselves deeply in the principles of God's word. Only then will the unlimited potential of the gospel for transforming society and individuals be fully realized.
It is our humble prayer that the Spirit of God will be pleased to use African Bible University to train up servant-leaders who will seek not their own, but the things of the Lord Jesus Christ.
~ O. Palmer Robertson - Vice Chancellor
Steve Reynolds (ARP Church Planter - Renew Church, Ft. Myers, FL)
Steve Reynolds is the pastor at Renew Church. Steve and his wife, Rachel, moved to Fort Myers 4-years ago to start the process of building a church that would help people fall in love with Jesus and change their community for good.
Steve is a West Point graduate with experience in the Army as an Infantry officer, in both pharmaceutical and medical device sales, and in ministry. Steve is focused on seeing change happen in communities and communicating the Bible clearly, so that we can understand and apply it today.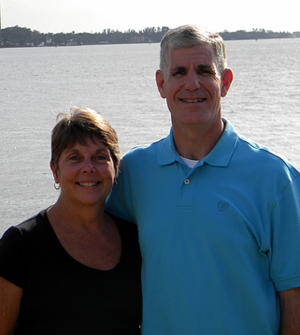 Compassion International (Katty in Guatemala & Fabrice in Rwanda)
Compassion International is a child-advocacy ministry that pairs compassionate people with those who are suffering from poverty. The ministry releases children from spiritual, economic, social, and physical poverty. The goal is for each child to become a responsible and fulfilled adult.
Compassion's work has grown from modest beginnings in South Korea in 1952 when American evangelist Rev. Everett Swanson felt compelled to help 35 children orphaned by the Korean conflict. Today it is a worldwide ministry where millions of children are now reaping the benefits of one man's clear, God-given vision.
Our North Creek family is sponsoring two children - Katty in Guatemala & Fabrice in Rwanda.
Hope Women's Centers has been helping women make pregnancy decisions since 1987. All of our services are FREE and CONFIDENTIAL, and are offered in our medical clinics at several convenient locations in Broward County.
Our desire is to provide hassle-free, no-cost services in a friendly, non-judgmental atmosphere. We do not benefit financially from the decision you make, so you can trust us with this important decision.
Justin Westmoreland (A.R.P. Church Planter, Norman, OK) Pastor at Trinity Presbyterian
Prior to planting Trinity Presbyterian Church, Justin served as the campus minister for Reformed University Fellowship (R.U.F.) at the University of Oklahoma for five years and at the University of Tennessee Martin for five years before that. Originally from Sherwood, Arkansas, Justin attended college at Southern Methodist University in Dallas, where he earned a Mechanical Engineering degree, and he received his Masters of Divinity from Reformed Theological Seminary in Charlotte, North Carolina.
He has been married to Meredith since 2003, and they have four precious children — Knox, Owen, Grace, and Lily. Beyond the every day activities of full-time ministry, Justin spends his time coaching his kids' baseball teams, playing video games and board games with his kids, attending his neighborhood's block parties, and making physical fitness a priority at Gold's Gym. He also loves stories — watching them on Netflix, hearing them through podcasts, and reading them.
Brooks Pipher (A.R.P. Church Planter Intern - South Florida) Pastor of "No Name Church"
Brooks and Amanda Pipher are working in Downtown Boca Raton to begin a new Associate Reformed Presbyterian Church called The Downtown Church.
High school sweethearts, Brooks and Amanda have been married for seven years, and would love to get together with you any time for lunch or coffee!
For more information, or to reach Brooks, please visit www.DowntownChurchBoca.org.